The school opened in a building on the grounds of St. Stanislaus Parish in Lansdale in September of 1949 with only a freshman class. It was named Little Flower Catholic High School of Lansdale, Pa, after its patron Saint, St. Theresa of Lisieux. Each succeeding year, another class/year was added and in 1953, commencement exercises were held for the the first graduating class of 33 students. That building is still functioning on the property of St. Stanislaus Parish and today is named Little Flower Hall.
Probably the main, if not the only, driving force to bring about the establishment of the school was Monsignor Joseph Schade, who was the Pastor of St. Stanislaus Parish in Lansdale at that time. He was aided in his efforts by the willingness of the Sisters of St. Francis of Philadelphia who initially staffed the school, with Sister M. Theresa Clare being the first principal (and one of the teachers).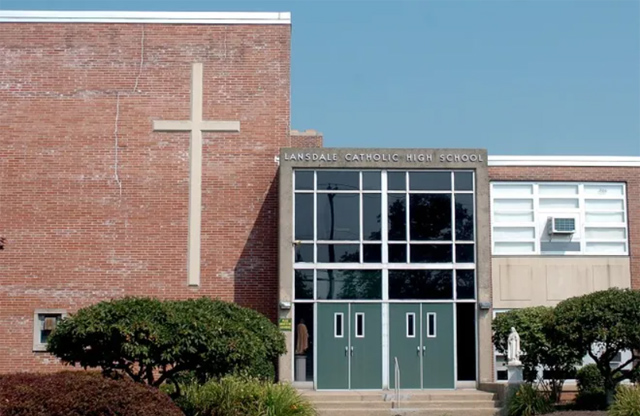 Because of the increasing enrollment, in the mid 1950's plans were put in place for a new high school to be located at 7th Street and Lansdale Avenue. The'new' school was expected to be completed in time for the Class of 1960 to finish its senior year there. In anticipation of that happening, and perhaps because the sports teams had long been referred to as Lansdale Catholic, the school name was changed to Lansdale Catholic. However the completion was delayed and the Class of 1960 never made it to the 'new' school. And so while they officially graduated from Lansdale Catholic, the class finished its school year in the original high school building which is now named Little Flower Hall. The 'new' school opened in September of 1960 with the first class that graduated from the there being the Class of 1961.
The school continued as a "parish" high school until the mid-80's when control of the school was taken over by the Archdiocese.
In 1988, there was the dedication of a major addition to the school. It was made made possible primarily through the support of the Business Leaders Organized for Catholic Schools (BLOCS).
In more recent years, other improvements were added including another on-site parking facility and a baseball field.
Unfortunately in the late 90's, the Archdiocese saw fit to sell off approximately 44 acres of the land to Westrum Developers.